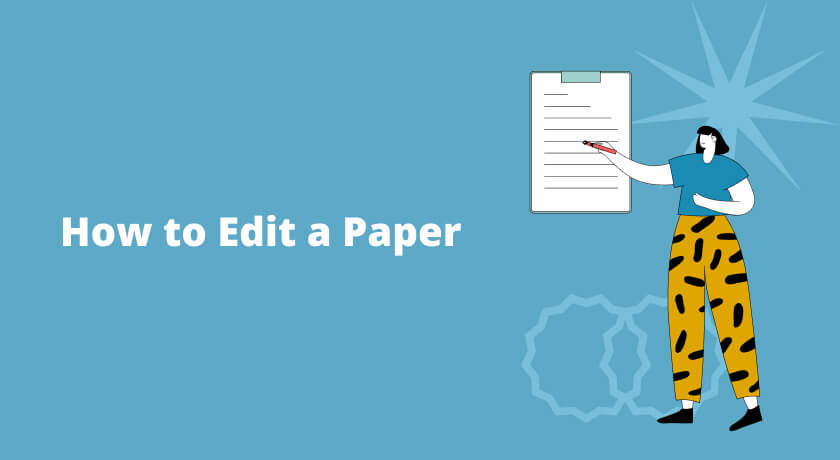 You have just written the last sentence in your academic paper. Yes, finally, you can rest and enjoy your leisure. But it is not the end of your work for today! If you didn't make a paper edit, then here are some bad facts for you.
In general, preparing any academic paper consists of planning, writing, and editing. If you have already made a text, then you need to do revisions. Let's find out now what it is and why the edited paper is better than the non-edited.
What Does Editing a Paper Mean
First of all, you must believe that editing is not something complex and scary. This is a process of making your paper better that allows you to get a high mark. That's why every student is interested in editing process.
Second of all, you need to distinguish 3 similar types of improving your paper. Here they are:
revision. It includes changing individual sections of your writing. You may rearrange, delete, write, and rewrite content;
proofreading. This is a general process that focuses on mistakes in grammar, spelling, punctuation, paper formatting, and so on;
editing. This is a more in-depth process that estimates how the content is presented in the assignment. When you edit scientific papers, your goal is to make the text clear, structured, and easy-to-read.
Usually, students use all these methods to correct a paper. Thanks to such a comprehensive approach, they could be sure that the final assignment is relevant to all the requirements.
5 Tips on How to Edit Your Paper
If you plan to edit an essay, you can't expect good results without proper skills. So the following tricks will be very useful for all students, no matter the grade and subject. Keep reading this guide to find professional and efficient ideas on how to focus on editing and developing the most exciting content.
1. Use Online Tools but Rely on Your Skills
There are numerous tools on the Web that help in editing your term paper. Such services allow you to check grammar, spelling, syntax, and other types of mistakes. It's great to use such tools at the end of your revision as an extra method.
But don't rely on online and offline software. These options are very approximate tools and cannot replace a real human mind. For example, you may make a misprint and write the word 'from' instead of 'form,' but most grammar tools wouldn't highlight it as a mistake. That's why it's better to use your skills and be attentive during editing process.
2. Keep an Eye on Grammar and Commas
In most cases, your mark depends on 2 main things:
the quality of your content;
the quality of the text.
If you have gathered awesome sources for your research or dissertation but failed with English, don't expect a good result. You can reach success only using both high-quality arguments and perfect formatting. That's why you need to use your skills in English to build proper sentences and paragraphs.
Also, don't forget about professional editors who may keep proofreading and editing papers for you. Just find someone you can trust, and don't worry about the text.
3. Control the Main Paper Requirements
It seems obvious, but students go so deep into writing, so they forget about their papers' traditional and specific requirements. Usually, all essays, dissertations, researches, and other academic tasks have standard rules to use. For instance, the proper formatting style, number of pages, citations, etc. But sometimes you may get unique requirements, like to insert images, use references to the exact book, and so on.
That's why while you are concerned about grammar, you may forget about the words count or required references. Try to control all requirements and reread your task assignment before and after writing.
4. Show Your Text to Someone Else
A fresh view of your paper is precious help. If you show your writing to someone else, you can receive useful recommendations in return. Note that it must be a person you trust.
Students usually show their essays and reviews to friends, family, or professors. You can also ask a professional editor to review your assignment and share his or her thoughts about it with additional recommendations. If there is no one you can trust the paper quality judgment, you may ask other students for a bit of advice.
5. Read the Paper Aloud
Most people don't believe that this tip works until they try. So if you have never read your texts aloud, then use this chance immediately! You will be surprised how useful this practice is.
When you do it, you hear yourself and how your content sounds, so you can find more mistakes that were invisible before. For instance, you can understand whether your text is readable or not, does it include weak words or sentences, and so on. In general, reading your paper aloud opens another level of perception for you and lets you make more deep revision.
Additional tip: if you feel awkward reading text aloud, you should find a quiet place and relax. Imagine that you are a famous speaker and need to give a speech.
Extra Tip in Writing and Editing Papers from EditingLeads
The listed above recommendations are essential for students. Using such methods, you may make your academic paper smooth, exciting, and polished. But it's great to have a personal assistant who can do your tasks for you time after time.
That's why our company exists. We are a responsible team of writers who may create unique assignments from scratch and support you with professional editing. You can order comprehensive assistance or partial help from our edit my paper service. Just know that you are always welcomed to join the community of satisfied students.