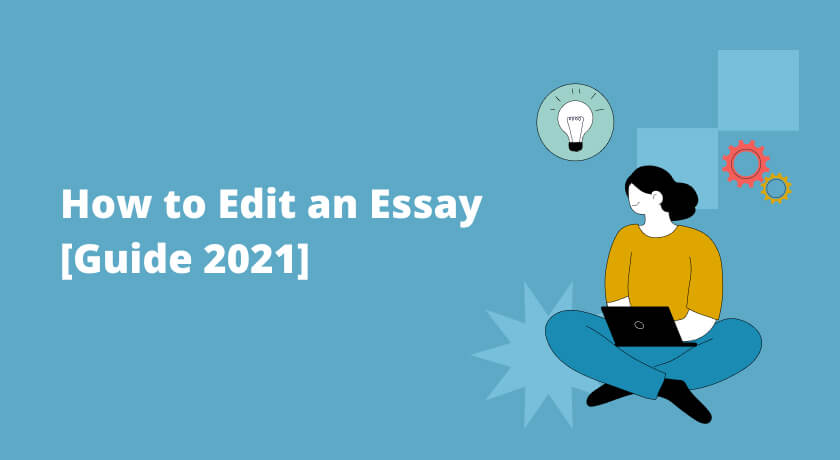 Once you have done with writing your essay, it seems you have already done the job. But don't relax beforehand! Writing is a massive part of your schoolwork, but it is not the last step in your assessment. The next stage is editing an essay to polish to reach perfection.
Be sure that if you want to make better essays and get the highest marks for your efforts, you need to make edits. Find out what revision is and how to do it like a pro.
What Is Editing an Essay
All students wonder what revision means. Long story short, editing is a process of improving the draft. The author reads the text, corrects mistakes, highlights the weak sentences to rewrite some parts later or right now, etc. He aims to make sentences more transparent and more exciting. Editing may also be followed by proofreading as a final stage of improving the paper.
Editing essays includes adding new words and sentences and deleting weak parts. This is a typical strategy to make your content high-quality. As a result, you will see your paper become clearer and easy-to-read.
No matter the type of assignment, your edits will improve the general quality of your work. Usually, the writer cannot notice weak parts in the text while he or she is still writing. Only after finishing the essay you could look at the content from the other side. Basically, it seems like one part of you writes the draft and another part of you polishes the final edition.
Types of Editing
Experts divide revising texts into different types. Usually, an author doesn't even know which option he or she prefers and combines different methods. Editing style is quite a personal and intuitive choice. But it's great to know the most popular editing strategies.
For example, it is said there is draft editing and ongoing editing. The difference between these options is obvious: you edit while writing or edit after writing. Let's try to understand more differences between these revision styles.
1. Ongoing Editing
Most students prefer editing during writing. It means the following algorithm:
you write a paragraph and stop for a second to change one word or order of words in the sentence;
then, you write 2-3 and more sentences before you stop to make several edits again.
The other scenario is also very spread among young authors. Let's imagine that the sentences flow in your mind, so you don't stop writing. You have written a paragraph or several paragraphs, and suddenly a new idea comes to your head. At the moment, you decide to come back to the exact part of your text and make corrections.
2. Draft Editing
This is an approach that is mostly spread among professionals. An experienced writer prefers to make the whole text at once and make revisions in the end. It works better because such a strategy allows gathering notes and processing the paper as a cohesive whole.
Besides, professional writers don't need to 'sleep' with the text. They can edit drafts right after finishing the writing. Instead of them, students should leave the draft for several days so their brain can rest a little. So they return to the paper in 1-3 days to make edits. That's why you should plan your work on homework for 3-4 days before your deadline.
In any case, you should be keen on editing. It is impossible to prefer a good paper without good skills in making revisions. So if you are keen on making proper corrections in your text, you are better positioned than other students. But if you don't understand how to revise academic papers and edit essays, then hurry up to work on this skill.
Let's clear up how to edit an essay to make it better. The following guidelines will be useful for a freshman and a skillful student too.
3 Tips on How to Edit an Essay
Now you know that editing an essay includes numerous activities for you. As an author, you need to improve the content in general, correct the paper structure, find weaknesses, substitute these parts with stronger arguments, etc. Even if you understand the revision goal, you may still be unavailable to make this work properly.
First of all, you should prepare yourself to edit your essay. Please understand that by deleting sentences, you make the whole paper better. It is an essential idea because most students can't delete a word they have written before because they believe it's a good one and has taken your time.
Second of all, you need to have efficient tools to revise and edit papers. The following tricks are advised by experts who work on editing essays on a regular basis. So use these tips to improve every paragraph in your paper.
1. Take a Look at the Essay Structure
This is the first thing your professor sees. Your paper must include a catchy introduction, a comprehensive body, and a brief conclusion. Make sure all these parts are used and followed by transition sentences.
Also, you need to check the proper order of arguments in the paper. The one-paragraph may be dedicated to the one statement. Otherwise, your text will be hard to read.
2. Mark Long Sentences and Words
It's better to avoid using too many long sentences. As a result, the best choice is to use short and long phrases interchangeably and add more short sentences.
The same is fair for long and unpopular words. Don't overload your readers with definitions and explanations. Try to use relevant and easy-to-understand synonyms.
3. Track Repeated Ideas
When you are writing, proofreading and editing essays, it is very easy to forget something or repeat the same idea. Thanks to the revision, you can avoid this widespread mistake. So start reading your paper and highlight the exact phrases.
Also, you should delete tautologies. This is your enemy on the way to a high-quality academic paper. Usually, professors decrease points because of such a silly mistake.
In general, editing essays is a real art that takes much time and effort. Sometimes a student writes a paper in an hour, but he or she edits it for several days. Just accept this fact and try to improve your skills.
Also, it is great to have someone who can help you with your revisions. If you require a professional assistant, you can use our essay editing services. Our experienced authors cope with all types of editing and proofreading for students of all grades.