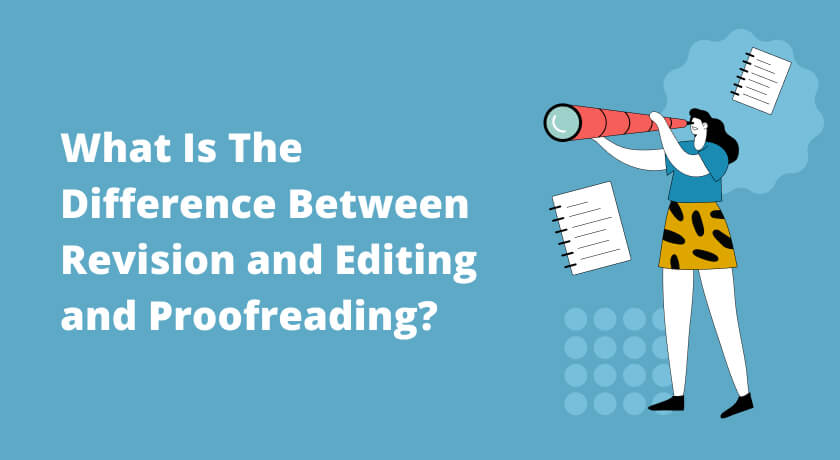 Coming up with a perfect A-level paper is a challenging task for any student. You may have some knowledge about the research process, developing the outline, generating attractive hooks. But what is next?
REP Overview: Revising vs Editing vs Proofreading
Some people say that it is important to proofread the content, others remind you about the revision, and there are also advisors who say you need to hire an expert editor. Of course, you're confused. You may think: "what is the difference between revising, proofreading and editing?" And we want to assure you: these are three processes that, of course, have something in common. But they are still different, so you should know their features and understand exactly what you need.
So, we are ready to provide you with a revision, editing, and proofreading checklist.
However, don't think that you should cope with it yourself. We know that you have more exciting tasks. Writing a paper is creative, but working through its structure, getting rid of mistakes is boring. It is an entirely mechanical job, and if you don't waste your time, it is better to delegate it to professionals.
Revising
Once you have finished your paper, take a breath. If you have such an opportunity, go for a walk, sleep well, and return to the draft with a fresh mind. It is where the first stage starts, the revision. In other words, it is a substantive review of the content.
Begin with checking your outline organization: pay attention to the title, thesis statement, main ideas, the structure of each paragraph, the evidence, and the conclusion. Ask yourself:
does your final draft match your outline?
if not, what changes have you made? Are they justified?
are there any gaps in the document? What information can you eliminate, and what should you add?
was your entire strategy correct?
does each of your paragraphs stand for the one idea?
is your thesis statement clear enough?
Imagine that you're not an author of this text, and revise it as a reader. What can you say about its strengths and weaknesses? Is it crafted according to the needs of the target audience? Has the writer presented logical and balanced arguments? Re-visioning is a perfect opportunity to look at your material, to evaluate all its aspects. If it seems too complicated, ask someone to be your second pair of eyes and provide you with honest feedback.
Editing
The next step occurs when you already know what is good and what is bad about your essay.
Your task at this stage is to make sure that the wording of your paper is coherent. Focus the attention on paragraphs, scrutinize all sentences, and try to bring clarity to each of the words you choose. If you can make your paragraphs shorter, do that. Get rid of wordy phrases or ambiguous statements.
Seeing some grammar, spelling, or punctuation errors, get rid of them. Your language should be clear and substantive.
During the reading, try to pay attention to any details you meet.
Proofreading
This part of the whole process is vital because you can see the whole picture now. As you may understand, proofreading should be done after you finish revising, editing and proofreading. It is like icing on your cake.
You need to proofread your paper a couple of times to make sure that everything is perfect. If you've missed something during the previous stages, now you can fix it. Make sure all your ideas are linked, and you provide your reader with a strong point. Get rid of any typos.
In the last stage, you should also compare your final draft with the requirements. Make sure you've created the correct title page, your headlines are appropriate, and you haven't forgotten about the formatting.
As you can see, these three approaches are different. Firstly, you look through your content to make sure it is created according to your initial view. Then you edit your paper until you're satisfied with the final result. And your last task is to polish the document, to make sure each word is in its place.
Why Do You Need EditingLeads to Make Your Paper Flawless?
All these three stages are very important and very challenging at the same time. Writing a paper, you're working as an artist. Your task is to develop an idea and involve the knowledge and skills you've gained during the course. And you may feel awkward when you need to think about the product's form. However, you can't just ignore it and deliver the paper as it is. It should look professional, especially if you're going to publish your article.
The good news is that you can always ask for help. Our professional essay editing service is always ready to provide you with an experienced editor who will study your topic, identify its flaws, and correct them. Order writing, copyediting, and paraphrasing services to make your student life much easier!