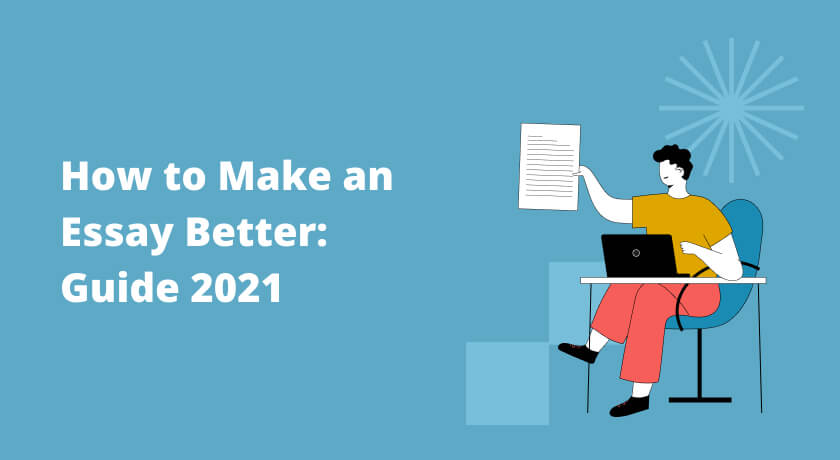 Studying at school or college, you should regularly deal with various academic assignments. It is essential to have good writing skills because regardless of the career you choose, you should formulate thoughts correctly and share ideas with other people. That's why as soon as you understand how to get better at writing essays, you will get better grades and praise from professors.
Our college essay editing service is ready to help you with this task. We provide students from different educational institutions with qualified services at affordable prices. Wherever you need a custom paper, you can contact us and ask for assistance. And, of course, our experienced writers know everything about essay improvement. You'll find some actionable tips in this article.
6 Tips to Improve your Essay
How to become a better essay writer easily? The main secret is not a secret. To write better, you should write more. There are some strategies you can rely on.
1. Develop an Outline
Before you start writing a paper, take the time to work through a clear structure. Write down all the details you need to come up with: the thesis statement, the evidence to support arguments, some ideas you may use, etc. Know what to include in the introduction or the conclusion paragraphs in advance.
2. Write as Clear as Possible
Of course, if you're studying at university, you shouldn't write as if you're a pupil. But your text should be very simple to read. Pick each word carefully, and make sure each of the sentences sounds as you want it. Avoid ambiguities to improve essay writing.
3. Study Your Requirements
Your teacher has some expectations, and it is essential to meet them. If you need to develop a research paper, make it solid, use some scholar as a source. If you need to deliver a regular essay, you may change your tone. Students can experiment with choosing one or another writing technique but never ignore the requirements.
4. Provide Your Own Opinion
The best essays are those that are sincere. It doesn't mean you can tell in the paper everything that comes to the mind. But it would be a great decision if you evaluate the sources and state the position. Your voice matters. Tie it with evidence, and you'll succeed!
5. Don't Forget About Literacy
The content is king. But you should also demonstrate that you can write a paper without flaws. It goes about the grammar, the punctuation, the language style you use, and so on. Check the vocabulary to make sure it suits your academic level.
6. Read a Lot
One of the basic ways to improve essay writing is reading. Of course, it should be just an entertainment process since you have to focus on a particular point. Mention details and learn something from each paper you read. Make notes, and don't forget about the references list to credit people whose ideas you use in the text.
How to Edit an Essay to Make It Better
Once you've finished the paper, leave it for a couple of days, and then get back to eliminate the mistakes and make your sentences sound smarter. Paper editing is not the easiest task since you need to be very attentive not to spoil the score. There are some tips to follow:
don't ignore the advice to have a rest. The brain and eyes should be fresh to find mistakes;
read the paper several times and concentrate on different goals. For example, you can evaluate the form of the paper during the first reading, Its summary during the second one, then the grammar issues, the arguments, etc. This process should be organized enough;
ask for feedback. You may be biased, so show your paper to a friend or a relative who can read it and provide you with an honest opinion;
hire a professional editor. If you're not sure you can come up with a flawless paper, it would be better to delegate this task to a professional.
Our company works with the best authors and editors who are always ready to have your back. Provide us with requirements, and enjoy the final result exactly on time! We guarantee you high quality, 100% uniqueness, and no delays. Make an order right now, and let us exceed your expectations!